A CONVERSATION IN THE ATELIER WITH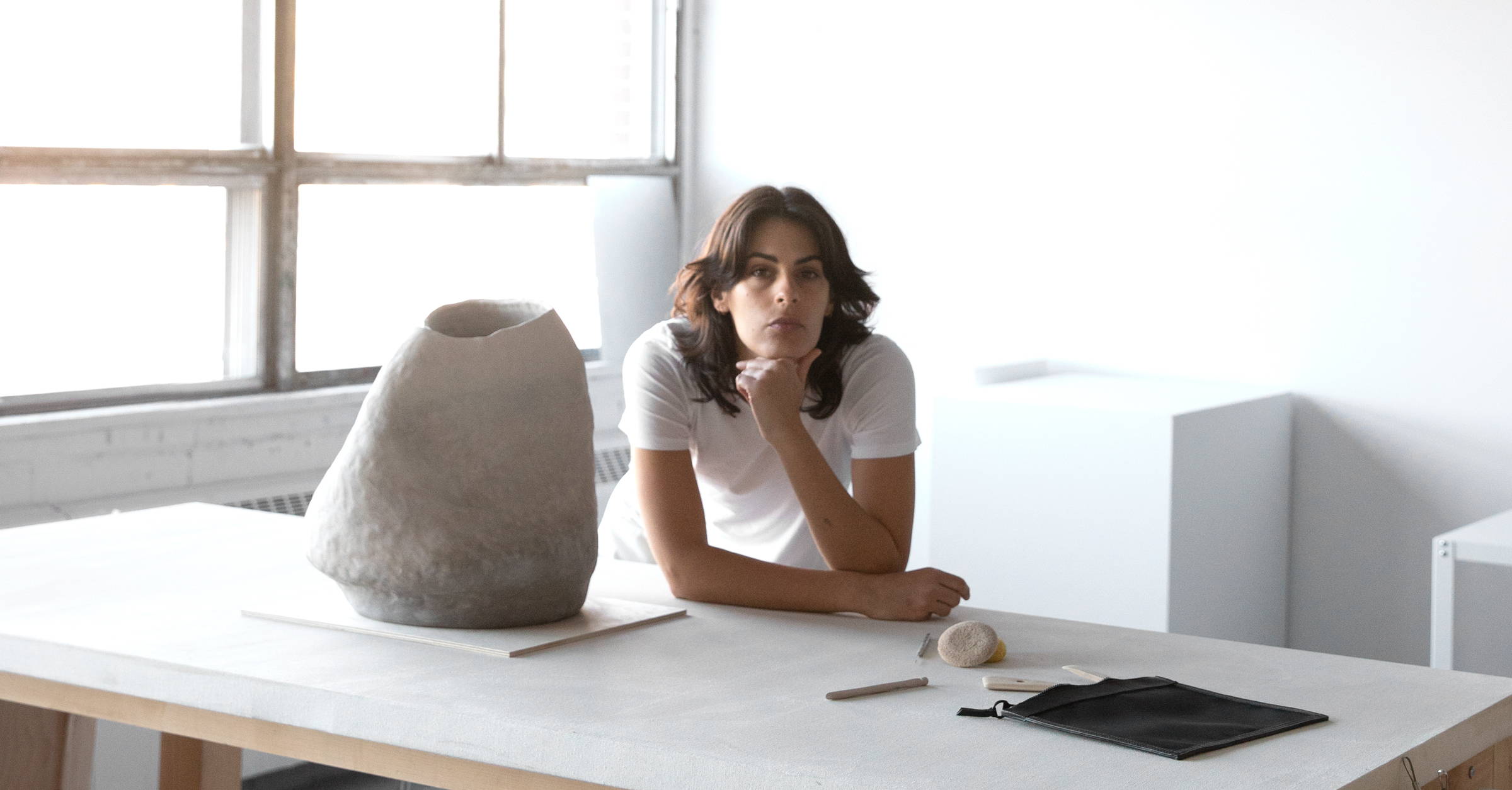 Edith Sevigny-Martel in her atelier on Chabanel in Montréal
Photo: Chloé Crane-Leroux
Creative Direction: Cece and Martina Di Bacco
Interview edited by Nadège Roscoe-Rumjahn


Edith Sevigny-Martel grew up in Hudson Quebec and now lives in Montreal, commuting between her studio space on Chabanel and her home in St-Henri. After spending five years in Toronto working in advertising, she moved back to dedicate herself to her art.
We discovered Edith's work when it was suggested as a finishing touch for our Loft project. We further collaborated with her on a series of large planters for Sushibox in Quebec City, where she embraced the challenges of scale. We were impressed with her persistence, her ease of collaboration and with her excitement to grow, experiment and master new techniques. We sat down to talk to her about her creative perspectives, her upcoming projects and her move away from the functional ceramic.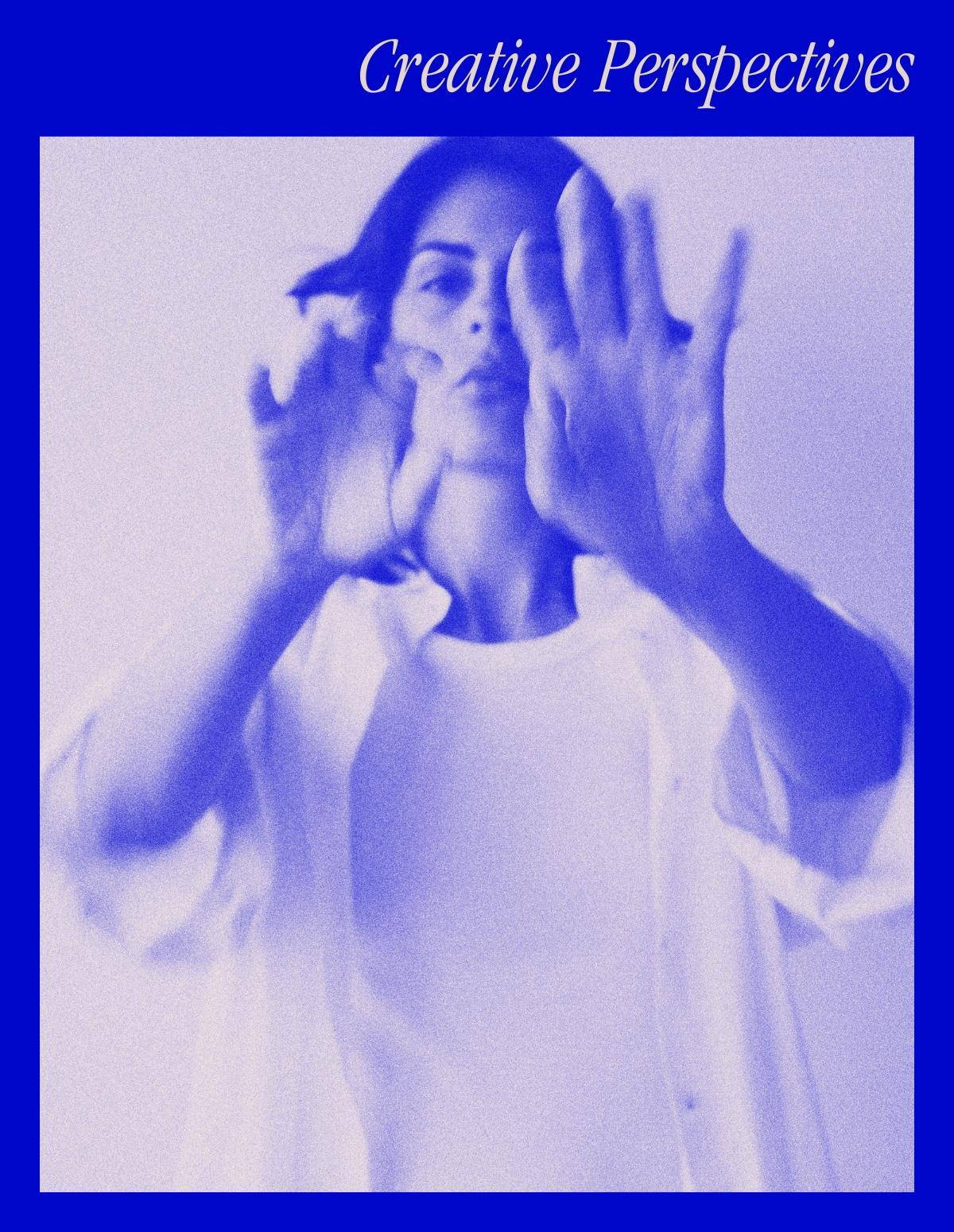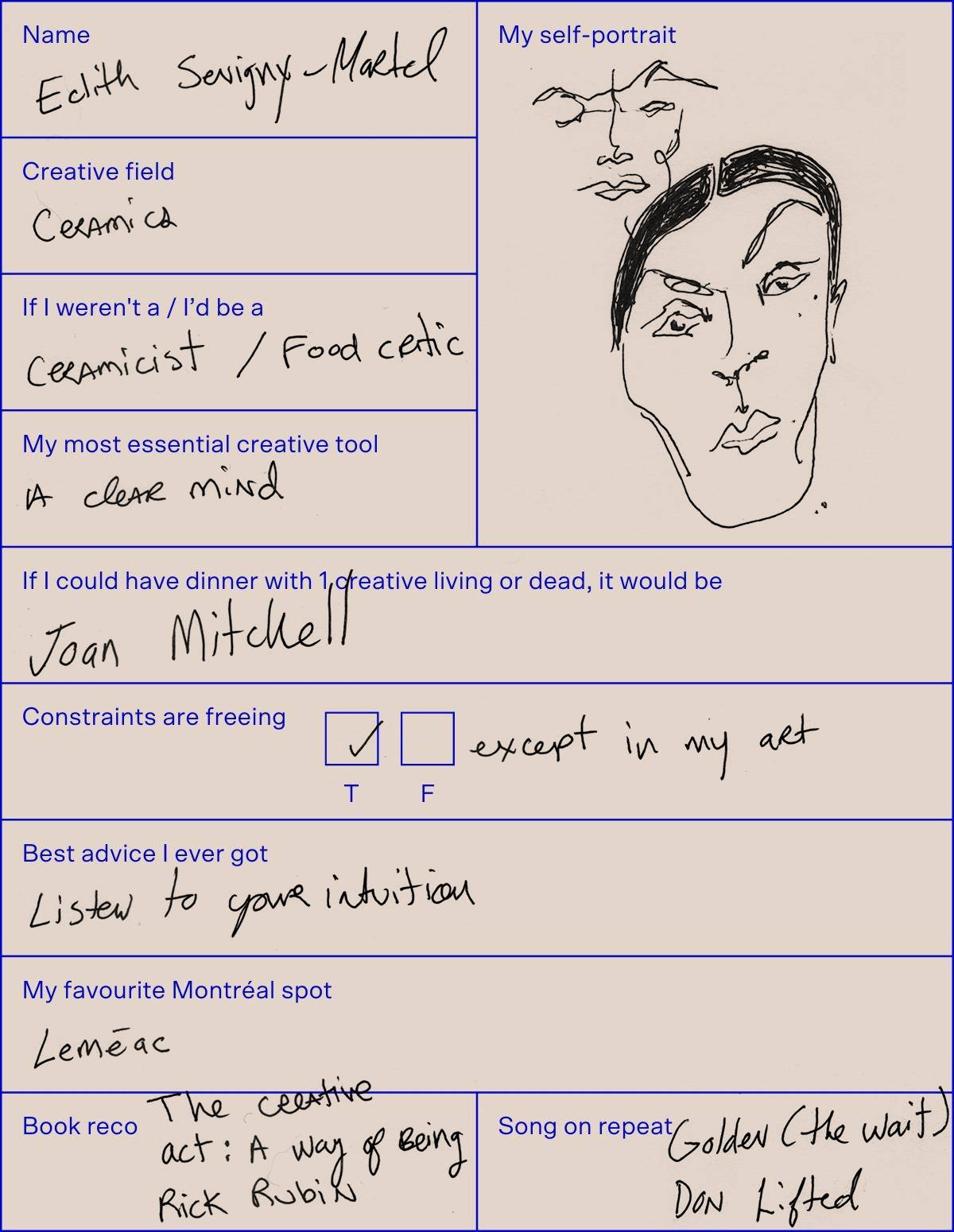 We love hearing about creatives' daily routines (or lack thereof…) because we are all creatures of habit. We are curious about the mundane tasks and intimate details of how one sets themselves up for the work ahead—how the ordinary things contribute to extraordinary work.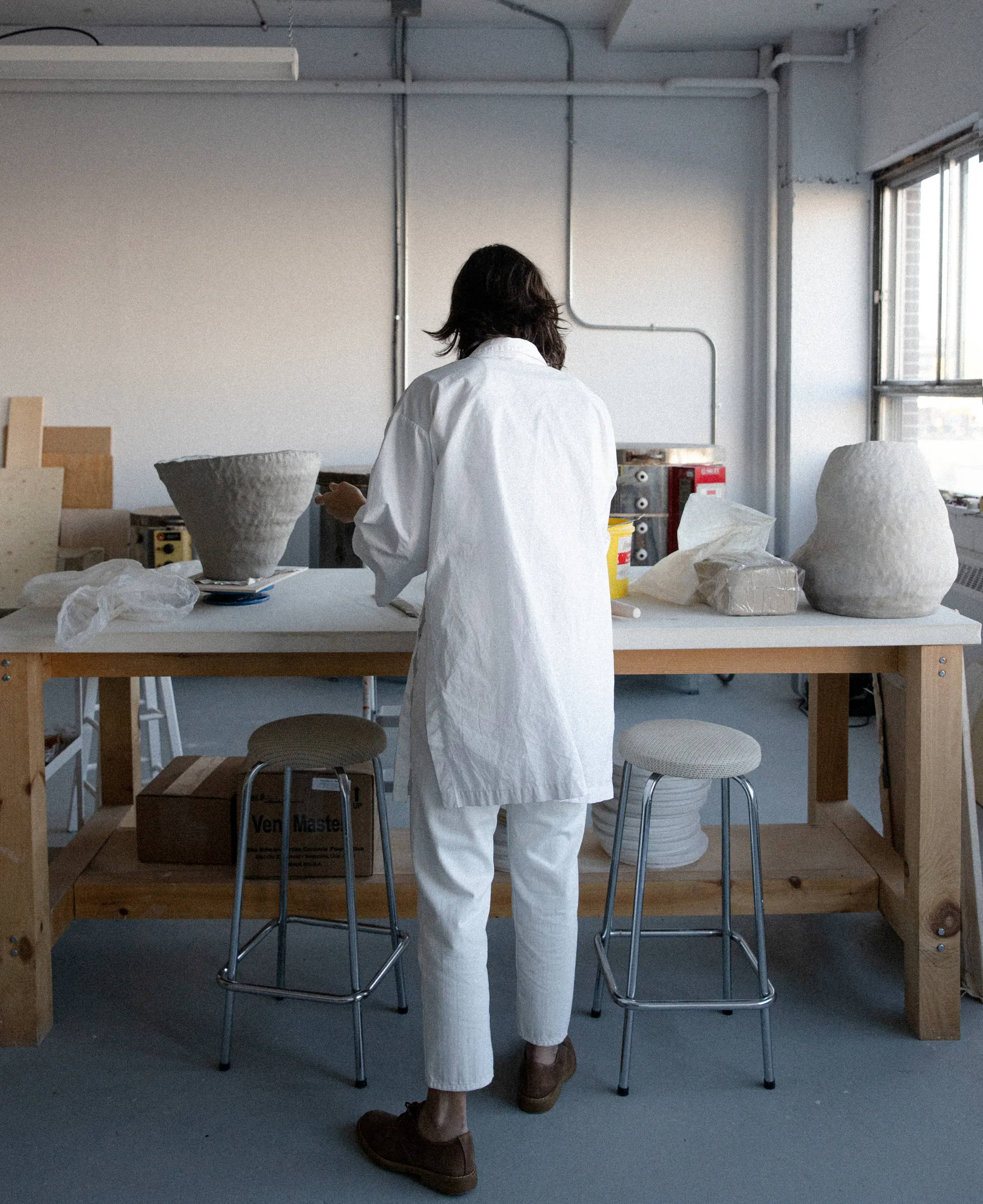 Here's Edith's take on her daily routine:
ES: Every day of the week is so different, I am really not a consistent person. I work best if I get up in the morning and just get to what needs doing. I wake up and drink a glass of water. I like to do the dishes in the morning, it's like my kind of meditation. I enjoy the little quiet household rummagings, my brain is so quiet. It is always the most productive day if I can make it to the studio or get my work done before eating lunch.
There are many different steps to pottery making and managing a studio, so it depends on what needs to get done. I am usually working on 2-4 pieces at the same time, there is a cycle of work, things that need to be prepared and tested beforehand. So, some mornings I am in the studio working on the latest glazes, or starting a new piece or finishing up the last quarter of an older piece.
Question 1
Name your most essential creative tool
ES: I know it's not a physical item, but I love looking at the sky. When I look at the sky, it's this vast wonder of what the world is, it keeps me inspired. It's everywhere, I tend to notice it on my drive home. On my daily commute, I always reach a point where I go up the mountain and then back down. There's a moment where I get a really nice view of the city up against the sky. It makes me love the city more and more, and it's really just this overwhelming positive feeling. There's clarity or a sense of comfort that is important. Everything else can be a bit messy and I can still make it.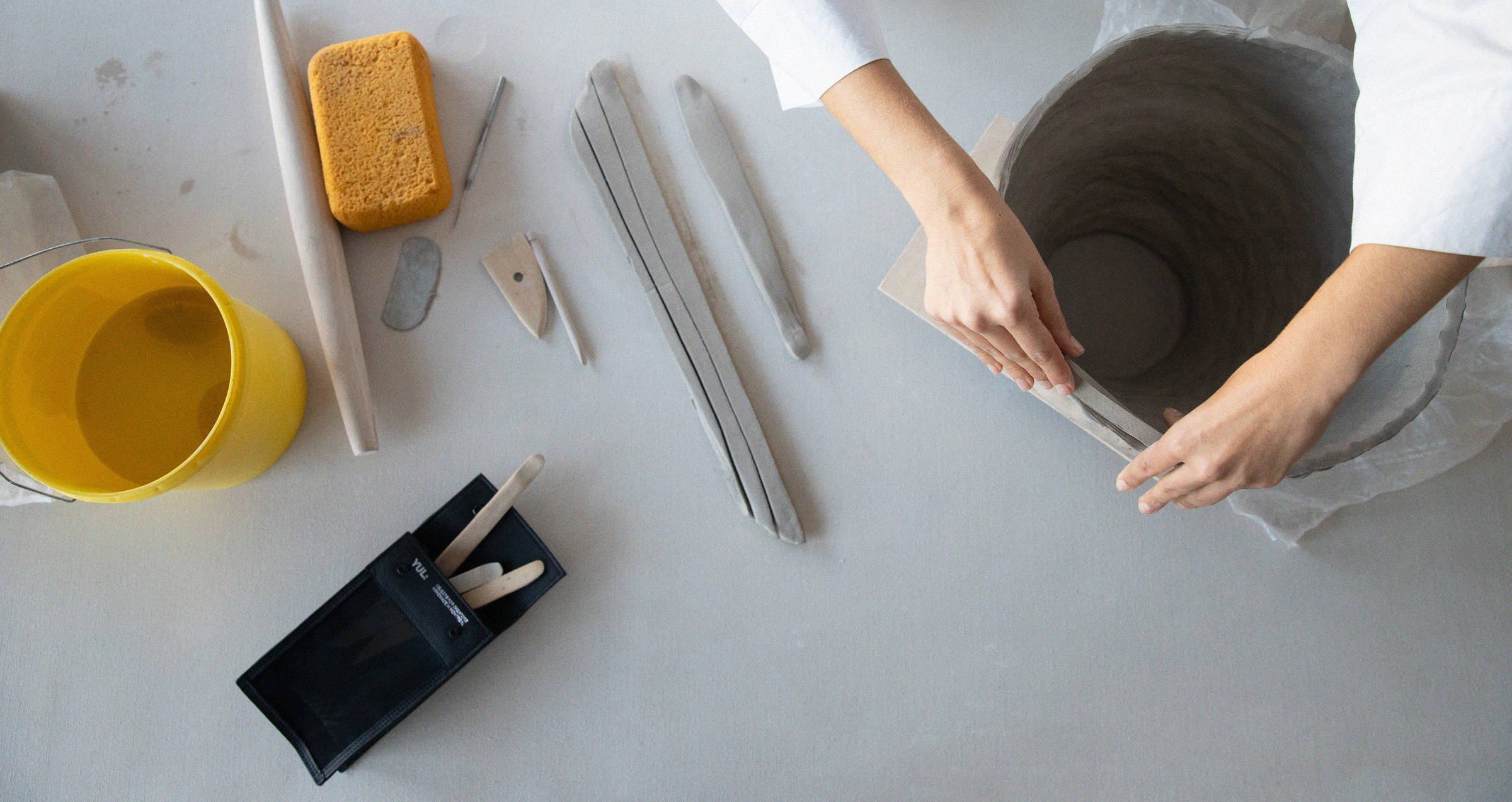 Question 2
Art was at its highest point in [_____ ]
ES: I'd have to say the 1950s. There was a radical shift at that point. It was the first time there was a move away from realism. There were other steps and layers along the way, but for anything that even resembled a landscape, that didn't have to exist in the same way anymore.

I don't think that art is at its best only when it makes radical shifts. The point is no longer to outdo, to be the craziest or to do the weirdest thing. I think it's important to be generationally relevant. Art is a mirror to society, a reflection of a moment in time, a snapshot of a point in the artist's life and what they're living. I think the purpose of art is to make you feel so it's really dependent on the piece and the artist—the best art is timeless.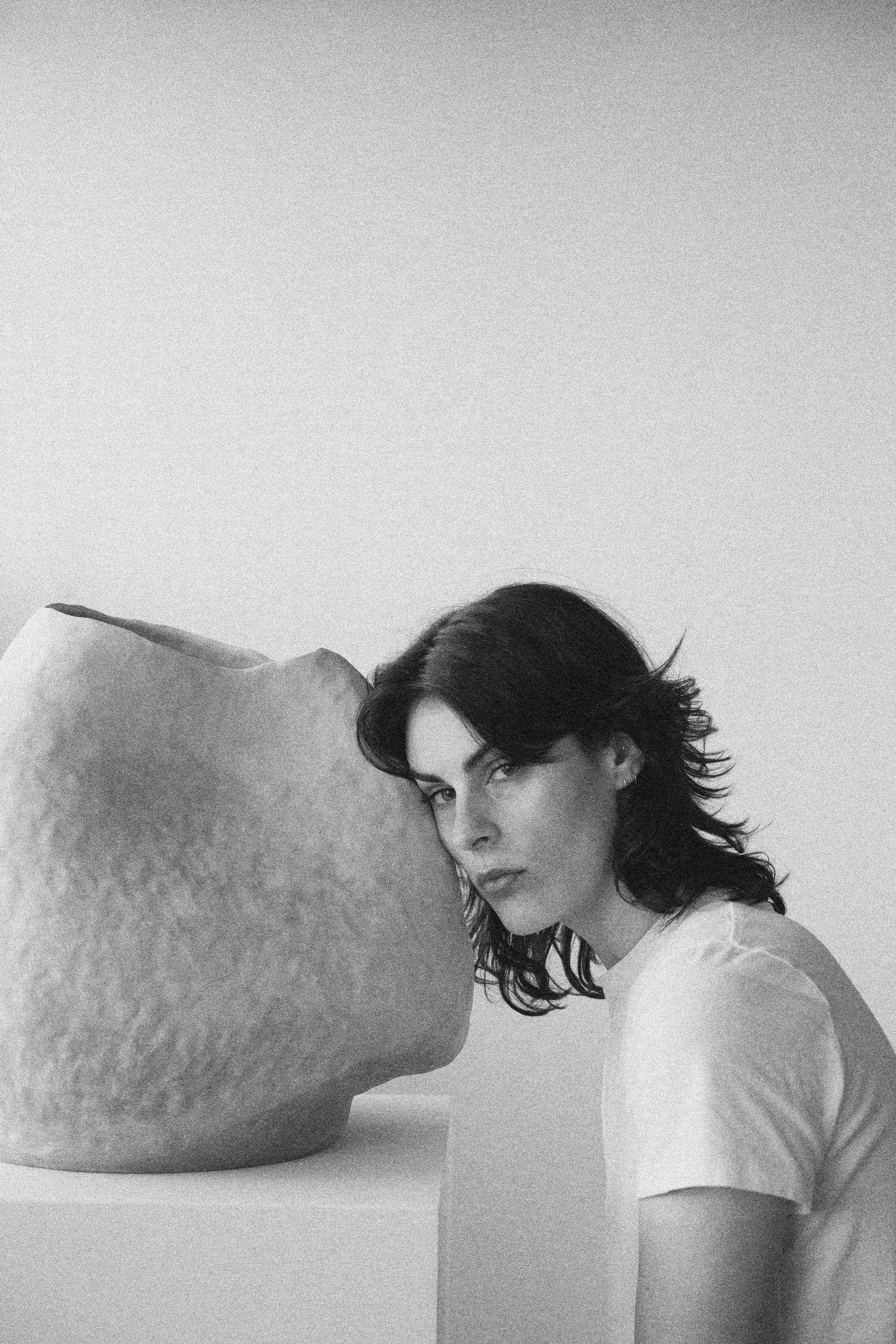 Question 3
True or False: constraints are freeing
ES: You know what, I believe that statement is true in everything, except for my art. In art, I think it's the opposite. The blank page syndrome used to be a little paralyzing, but I think I now trust that if I'm not inspired, I simply have to start and something will come. Once I start, I will find something along the way—I will notice what is interesting about a certain piece. This is how I approach making, I try to empty my mind. The rest is about observation and redirection.

Going for walks helps too!

When I shape the clay, I use a coiling method. I don't really try and tame the clay, I like that it has a mind of its own. I like to notice the nuances as they appear in the shaping. I spend a lot of time just looking at a piece. I rework, I analyze, I make and mold as I go. I like to see what gets uncovered. Sometimes there's more of a forceful redirection and sometimes you have to start again. It helps to have no constraints, to not get attached. This is true especially in ceramics—everyone's had at least something crack, break or blow up in the kiln just as you are finishing.
ES: Recently I needed some peace of mind, so I started a job that I have committed to for a year. I don't want to be financially dependent on my work for the moment because I just want to make things for the sake of making them and see where that goes without the pressure of having to sell them. I want to make things and see what happens when I can push my own boundaries, if the piece doesn't work, then it doesn't work—it's okay. I need a good year of that freedom to actually get to the next level with my work, to be able to push the clay bodies, to push the material and learn; to get to a better craftsmanship. Looking back at this past year, I can see the quality of my pieces getting better because I'm taking the time. I also want to see how the shapes are going to evolve naturally, I want to not be attached to the outcome. I want to play around with form and then what? It might not always work, but that's exciting.

I am looking forward to raku pit firings, harvesting wild clay and just playing around with my medium and seeing what I can do with it. I'm still looking for something, I can't really articulate it yet, but there's something I'm trying to convey that I'm a tick away from.